Pavlo's Short Biography
For being all instrumental, Pavlo's Mediterranean music speaks for itself. Over the span of his 20-year career, Pavlo, the internationally renowned, award-winning recording artist, performer and songwriter, has released 15 albums to include 4 PBS TV concert Specials.
Born in Toronto to Greek parents, Pavlo has made a name for himself by offering a musical amalgam he simply calls "Mediterranean music" – a blend of Greek, flamenco, Latin, and even Balkan flavours, wrapped in contemporary pop. His music has taken him all around the world. Along the way he's performed for royalty in the likes of Prince Charles and worked and toured with artists such as José Feliciano, Jon Secada, Olivia Newton-John and The Tenors.
It has never been more convincing, Pavlo is a TRUE WORLD artist, and has become famous for bringing every audience to their feet.
Pavlo is currently on tour promoting his fourth PBS special "Live in Santorini" and is still driven by his father's famous words:
"Have the courage to do what you love, and the drive to do it well."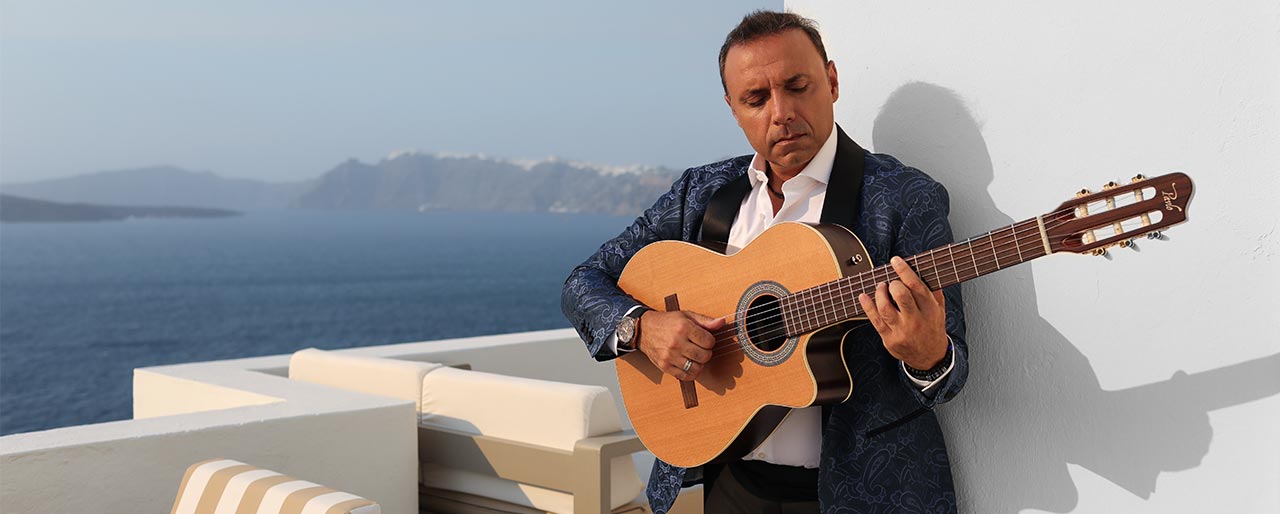 Pavlo's Long Biography
Pavlo was ten years old when his older cousin showed him how to play the guitar riff of a famous Beatles' song.
Pavlo fell in love with the guitar that very day. Now, twenty plus years later, into a successful worldwide touring career, for fun, Pavlo will play
the intro to "Day Tripper" in concert almost every night. It never gets old. The magic is still there.
Pavlo was twelve when he composed his first song. Thirteen, when he promoted his own first concert in the gym of his elementary school. The price of admission was twenty-five cents.
Pavlo's parents saw their son's love for playing, and they took him seriously when he told them that this is what he would do for the rest of his life. Most parents would have steered their child to a more secure vocation. Instead, Pavlo's father encouraged Pavlo to do the thing that made him most happy.
He told him "Have the courage to do what you love, and the drive to do it well." If his son wanted to play guitar, Pavlo's father encouraged him to do so, but to do it to the very best of his ability, have a strong work ethic and never lose the passion to continue moving forward in his chosen path.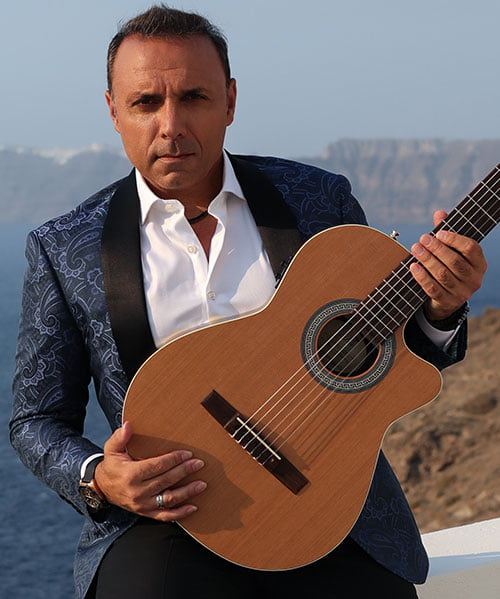 Pavlo studied everything from classical to flamenco; he performed in rock bands and wedding bands and of course in a RUSH tribute band before he found his own sound.
By his mid-twenties, Pavlo had spent many summers in Greece, but there was something very special about the island of Santorini that inspired him to write his first song that featured the Greek bouzouki. He called it "Santorini Sunset", and suddenly, Pavlo realized he had found his own sound that allowed him to best express himself through music.
In 1998, he released his first self-titled album. However, record label executives did not know what to do with Pavlo's music. It was new. It was like nothing else they had ever heard before. Instead of embracing this new sound, they turned it down, saying, "It's too ethnic" and "there is no market for this kind of music" and even "get rid of the bouzouki." Pavlo realized that he had created something original, so he decided to create his own record
label, and market himself.
Pavlo performed tirelessly in front of any audience that would listen. He performed at craft shows; café gigs and festivals, and even in the lingerie section of a department store! It didn't matter. If there was an audience, Pavlo would play.
Soon, he found a very passionate following. Pavlo's brand of "Feel-Good" music, struck a chord.
Investing all the money he had at the time, Pavlo released his second album, "Fantasia". Fantasia climbed the charts and made it to the Billboard Top 10, became a Gold album, and earned Pavlo his first Juno Nomination.(Grammy Equivalent in Canada) Pavlo started to tour across the country, and when critics said this trend would die out, Pavlo
received a call to perform for His Royal Highness, Prince Charles.
Soon after, Pavlo felt that he was ready to perform in Canada's most prestigious theatre, the legendary Massey Hall in Toronto. It was the very place Pavlo's father brought him to watch legendary guitarists such as Paco De Lucia and Jose Feliciano.
However, Pavlo was told that he would never be able to sell out that 2700 seat theater. Pavlo rented it out anyway, and he ended up selling it out…TWICE. Canadian Folk legend, Gordon Lightfoot was in the audience.
Pavlo was told that the USA would not be as accepting of his Mediterranean style music. In 2008, Pavlo completed an 80 city tour across the USA….he did it within 3 months, growing his fan base exponentially.
Many had said it would be too difficult to overcome language barriers and cultural differences to consider a fan base overseas. Pavlo went anyway.
Today, Pavlo's music is being played and studied all over the world to include: Japan, China, South Korea, Mexico, USA, Canada and many many more.. Pavlo annually tours throughout Europe, Asia and North America.
Pavlo had ambitions of performing in front of a television viewing audience. This would mean bringing his music to millions of listeners at once. Just when everyone told him it would be impossible, Pavlo received a call from 15-time Emmy award-winning director, George Veras (famous for Yanni's Live at the Acropolis). Georgedirected the one hour concert special made for television, entitled, "Pavlo: MediterraneanNights". It was aired internationally on PBS, and on Bravo and CBC Bold in Canada.Growing up, Pavlo was inspired by the famous guitar trio project of Paco De Lucia; Al DiMeola; and John McLaughlin. Pavlo wanted to create a similar idea – a Canadian Guitar Trio. When many thought it would be too difficult to collaborate with other musicians that were famous within their own genres, Pavlo called on legendary guitarists, Oscar Lopez, and Hall of Famer, Rik Emmett (of Rock band, Triumph).
The trio released their album, "Trifecta" and executed a national sold out tour. They made headlines and the album earned Pavlo a 2nd Juno nomination.
All the while, Pavlo's favorite career highlights were not awards, but rather memories – like the time he introduced his father to their guitar hero, Paco De Lucia. Also, when Pavlo co-headlined a tour with legendary Jose Feliciano.
The importance of having his parents present to witness these milestones inspired Pavlo to film another concert special made for television. This time, he would pay tribute to his parents by going to their hometown all the way in Greece. A little, beautiful hidden gem – a city in the north called Kastoria.
In 2015, "Pavlo: Live In Kastoria" was made, and Pavlo had dreams of airing this new special on Public Television. When he was told that "no one was interested", Pavlo, and his wife independently contacted the 354+ public television stations across America, one by one. "Pavlo: Live in Kastoria" was so well received, it was picked up in over 150 cities, and then
distributed nationally through PBS.
In 2018, it became one of the most successful television concert specials on Public Television propelled Pavlo and his band into a 100 city tour across America; Mexico and Canada.
2019 will be Pavlo's most productive year with, not one, but two album releases and a brand new television docu-concert that will air on Public Television.
For the first time, Pavlo is releasing an All-Vocal album, entitled, "Together". Release Date – June 14, 2019. It is a collection of 11 different songs that are sung by 11 of the greatest vocalists of our time. Over the course of 6 years, Pavlo met with and collaborated with singers and songwriters and "Together" is the end result of some of these best collaborations.
Additionally, Pavlo is looking forward to the release of his docu-concert made for Public Television, "Pavlo: Live in Guadalajara" which was filmed in Mexico – complete with a 93 piece orchestra playing Pavlo's original "Feel-Good" music.
Of course, there is the soundtrack too. "Pavlo: Live in Guadalajara" will be released on September 6, 2019.
With a grand total of 15 albums under his belt, Pavlo continues to collaborate with artists all over the world including John Secada; Olivia Newton-John; Giannis Ploutarchos: Mario Frangoulis and Jose Feliciano.
Pavlo has a dream to be the first foreign artist to film a television concert special on the island of Santorini. It's never been done, and, some say it's impossible.
"If I were a betting man, I would not bet against Pavlo." Toronto Star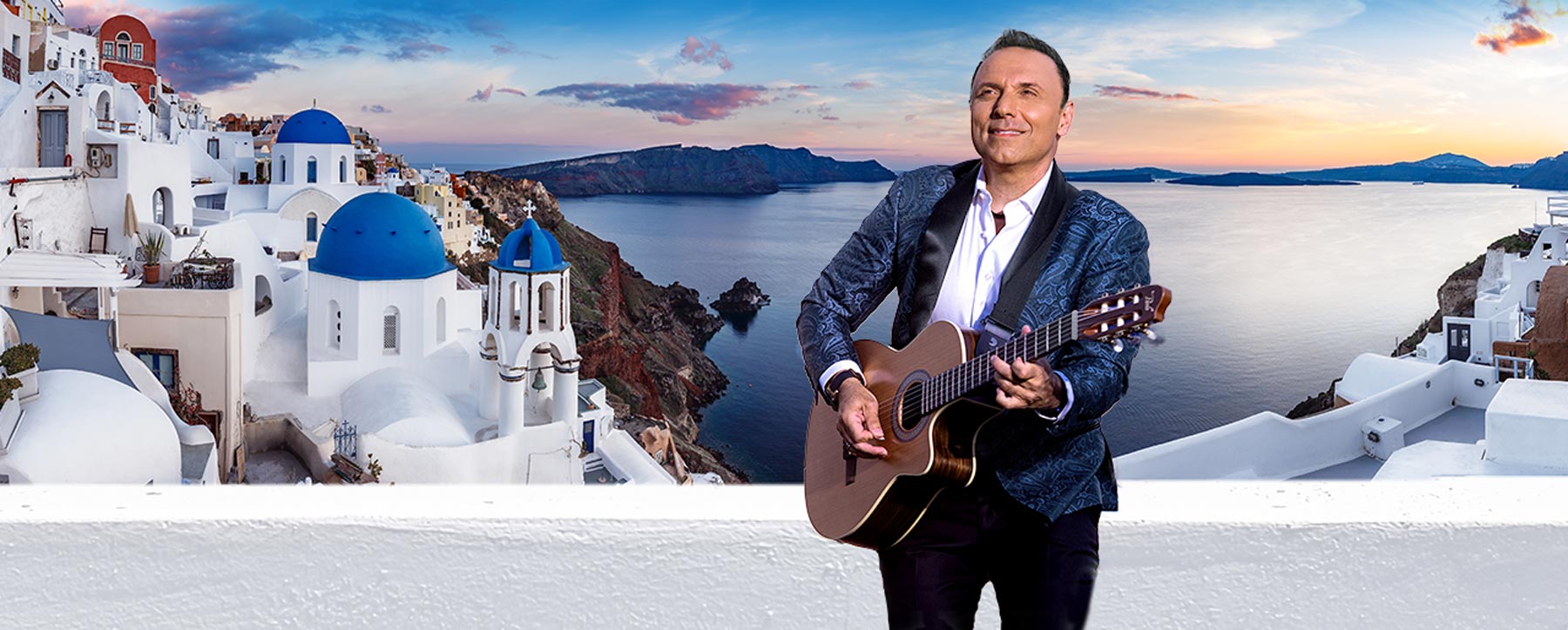 Awards, Nominations and Highlights:
PBS Special "Pavlo – Live in Santorini airing right now across the USA/Canada 2021/2022
PBS Special "Pavlo – Live in Guadalajara w/ Jalisco Philharmonic Orchestra aired across the USA/Canada 2019/2020
PBS Special "Pavlo – Live in Kastoria" has aired more than 1,000 times in 150 cities across the USA/Canada from 2016 – 2019
PBS Special "Pavlo: Mediterranean Nights" – aired nationally in 2008/2009 by networks: Bravo and CBC Bold in Canada and PBS in the U.S.A.
Best Instrumental Album of the Year for "Trifecta" (2010 – Juno Nomination – Canada's Equivalent to the Grammy's)
Best Instrumental Album of the Year for "Fantasia" (2000 – Juno Nomination)
Performs average of 150 concerts per year
Half Million Records Sold worldwide
Two Gold Albums (Fantasia and Pavlo)
Selected and Performed for His Royal Highness Prince Charles (April, 2001)
In 2002, Pavlo won a lawsuit against R&B Mega Stars: R-Kelly and Jay-Z. The R&B stars sampled Pavlo's music and made a Top 10 hit song "Fiesta" based on Pavlo's original melody "Fantasia". Pavlo's actual guitar work was lifted and placed repeatedly into the song 27 times. Pavlo now shares in the publishing of the song as a co-writer.
World Artist of the Year (2005)
Billboard Top 10 (May, 2005)
Touring Artist of the Year (2006)
Montreal Jazz Festival – Headlined Main Stage for 20,000 + people (2006)
Top Choice Awards 2006 "Greek Man of the Year"
Top Choice Awards 2007 "Greek Man of the Year"
Smooth Jazz Guitarist of the Year (2007 Nomination)
Music Featured in "So You Think You Can Dance"; Marine Life (starring Cybil Shepherd); CTV's Eleventh Hour;Just Cause; Showcase/Showtime L Word; The Chris Isaak Show (2 episodes)
Pavlo owns his own line of nylon string acoustic guitars retailing online and across Canada, called "Pavlo, Signature Series". See more click here
Pavlo is known for giving away his guitar to someone in the audience at EVERY concert!
Pavlo organized a Canadian Guitar Trio made of himself and 2 Time Juno Award Winner, Oscar Lopez and Rock and Roll Hall of Famer, Rik Emmett (Rock Group, Triumph). Together they composed all songs on their album "Trifecta" which was later nominated for 2010 Juno, and they completed a national sold out tour.